Lanky Larry
Lanky Larry is a platforming game with limited movement, instead of walking around, you use a grappling hook to move around.

Controls:
M1 (Left Click) shoots out your grappling hook, once it hits a wall it pulls you towards that wall.
M2 (Right Click), causes your grappling hook to let go.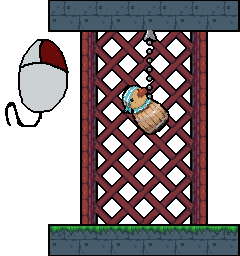 M3 (Mousewheel) While your grappling hook is attached to a wall, you can scroll the mouse wheel up or down for some vertical movement.
Moving your mouse left/right, will allow you some horizontal control. (not shown)
Spacebar allows you to preform a tiny hop, which lets you position yourself slightly diffierntly, and perhaps avoid some friction from the ground.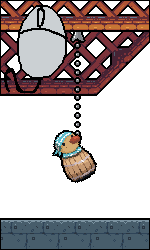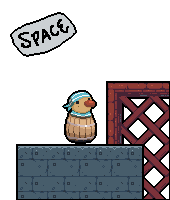 The game should otherwise be very straight forward, you can change sound volumes in the settings, as well as resolution and fullscreen/window mode.

The game is made by me and some friends (Vegard Jensen & faxdoc) during a gamejam back in January 2018. The game is still not quite finished, however it's a bit too refined to be called a prototype, but development has been put on hold, so I wouldn't really call it in development either.
Art is primarily by me, however both Vegard and faxdoc have done some art.
Programing by faxdoc
Core Concept by Vegard
Design by me and Vegard
Music by MyNewSoundtrack
Twitter links:
Lyиx/Lynzkar (me): https://twitter.com/lynzkar
Faxdoc: https://twitter.com/Faxdocc
Vegard: https://twitter.com/TheVegardJensen

Install instructions
Simply download the zip file, and either launch the exe file from the zipfile itself (by using something like winrar), or export it to a folder then launch it from there instead.